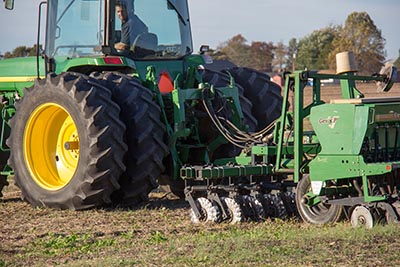 Farming is a tough job and farmers' jobs often put them in potentially dangerous situations.
According to the United States Bureau of Labor Statistics, the hazardous nature of farming makes farming occupations the most dangerous in America, with 23.1 fatalities per 100,000 workers.
During National Farm Safety and Health Week, celebrated the third week of September since 1944, farmers are reminded that safety should always be their top priority.
The 2022 celebration will take place September 18-24 and will be themed "Protecting the Future of Agriculture," to remind growers that the future of American agriculture depends on their security.
"We owe farmers our gratitude for so many things, whether it's the food we eat, the fiber we carry, or the fuel we use to get to our own jobs," said Dana Fisher, president of the Safety Advisory from the Virginia Farm Bureau Federation. Committee.
"While we rely on farmers, they also have families and communities that rely on them to return home safely at the end of each day," he said. "That's what makes National Farm Safety and Health Week so important. It provides farmers with a timely opportunity to reflect on the occupational hazards of their work so that they can take appropriate steps to mitigate them and work safely.
Daily themes for the week include tractor and rural road safety; farmer health; safety and health of young people in agriculture; confined spaces; and women's safety and health in agriculture.
Free webinars hosted by AgriSafe, a nonprofit organization representing healthcare professionals and educators working to reduce health disparities in farming communities, are also available for the national celebration.
Two webinars will take place each day from September 19-23 and will cover topics such as ATV and UTV safety; mental health among agricultural workers; grain silo safety; and promoting the physical and mental health of young people in agriculture.
Interested persons can register for online webinars.
Farmers and other rural residents can access additional farm safety resources through the VFBF Safety Site.