Ann Carruthers, Deputy Chair of ADEPT's Transport and Connectivity Council and Director of Environment and Transport at Leicestershire County Council, explains how the 30-minute rural neighborhood can benefit local communities.
The 30 Minute Rural Community is a new concept that examines how to tackle inequality through new thinking and collaboration. It is a response to the emerging 15-minute city concept and is the brainchild of WSP's Future Mobility team, part of the leading engineering and professional services consultancy.
WSP has been developing the approach since early 2021 and published an article in the summer of 2021, to officially launch the idea.
The 15-Minute City concept puts the needs of people and communities at the center of planning considerations – the basic principle is that everyone should be able to access key amenities and opportunities within 15 minutes.
Inspired by this and noting that the focus was on cities, WSP started looking at how to develop the concept for rural communities, looking at how to make rural communities more sustainable and better connected.
Often overlooked, rural communities are home to 12 million people in the UK and up to 80% of the UK's land area is officially classed as rural. Yet they face very different challenges in urban areas, including transportation, access to key services and socio-economic opportunities.
The importance of neighborhoods and local communities has been heightened following the Covid-19 pandemic and the climate change agenda. The public is increasingly aware of their impact on the planet and many are interested in exploring new opportunities for living differently.
Additionally, restrictions on working from home have opened up new opportunities for some, with many people choosing to relocate to rural areas.
WSP's paper, The 30-minute rural community / Future Mobility examines how to use human capital to meet community needs. It examines the possibilities of encompassing new and emerging modes of transport, how to harness digital in rural communities and the energy needs associated with it.
It examines how to "take it to the next level" to: "deliver greener, friendlier, happier, healthier, more productive, more prosperous, calmer and safer communities".
Many of these ideas are already coming to fruition in pockets, so WSP wanted to explore how different settlements can work together to increase this.
The document suggests that this requires a three-pronged approach. First, examine how to improve social and community infrastructure, with the idea that settlements will work together in clusters. Second, consider how partnerships can increase resources and access. Finally, improving physical and digital access to neighboring towns and cities provides access to opportunities on scales not possible in rural areas.
In Leicestershire, we share many of the common challenges associated with rural communities. We have a large number of towns and small agglomerations. To realize the concept of a 30-minute rural community here, we would need a review of transport and service provision, including shopping, medical and educational services. We would also need to look at how the digital offering can build on these, as well as consider behavior change in our communities.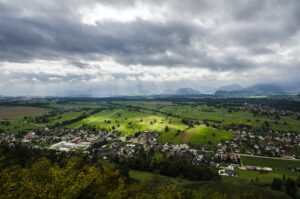 Transportation and connectivity are issues for rural areas across the country. Many regions have poor public transport networks, leading to car dependency, isolation of carless people and proportionally higher levels of out-of-pocket expenditure on transport.
Many villages and surrounding areas also lack the infrastructure to support active travel – much of the area has narrow lanes, no sidewalks and limited street lighting, so safety issues are often significant . However, new ways of approaching publicly accessible transport are emerging and this concept is about finding the right solutions for different places.
Historically, rural communities have tended to drive to the nearest market town or town to access services – but what if they could be accessed more locally? What if the villages worked together to create clusters of services and equipment? The benefits of meeting net zero obligations, community cohesion and making rural areas more sustainable could be significant.
More importantly, moving to a 30-minute community is a cultural challenge. It's about winning hearts and minds. For this to work, the public must understand – and accept – the potential benefits. They need to be at the heart of creating these communities, with groups and organisations, contributing their knowledge and skills – doing this and working together will help reinvent the way we live and move in our local areas.
At this stage, the 30 Minute Community is in concept stage, but at ADEPT we are hoping that a local authority will develop a pilot that can be shared across the country. We want to open the dialogue around this exciting concept, which offers many benefits, including greener, more equal and more prosperous rural communities.