The government's announcement of a sectoral emissions cap for agriculture 25% lower than 2018 emissions is a potentially devastating blow to Irish agriculture and the rural economy, the Irish Farmers' Association has warned .
IFA chairman Tim Cullinan said the deal between Fianna Fáil, Fine Gael and the Green Party is "all about the survival of the government rather than the survival of rural Ireland".
"The government agreed on a target with no pathway to get there or any budget to help farmers reduce emissions.
"They have no idea of ​​the economic and social impact of today's decision on the agricultural sector or rural Ireland. Farmers across the country will be rightly worried about what this means for their future," he said.
"Any attempt to undermine farmers' livelihoods or the viability of the sector, in order to achieve these goals, will be vigorously opposed by the IFA," he added.
The chairman of the Irish Creamery Milk Suppliers Association has called the government's decision to propose a 25 per cent cut in emissions for agriculture "very disappointing".
Speaking on RTÉ's Drivetime, Pat McCormack said it would be a huge challenge, but the proposal was a win for Green Party leader Eamon Ryan.
He said the extra 3% to deliver – from the lowest target of 22% to 25% – will "undermine the viability" of the family farm structure.
"We needed an ambitious goal that was potentially achievable, I see the level of feasibility of those goals," he added.
The ICMSA chief said that over the last two governments the policy has been to embrace agriculture to serve the rural economy, especially with the abolition of quotas.
"So this is a huge change and it's going to give rural Ireland a boost."
Mr McCormack said the era of cheap food is over as the emissions target will lead to 'huge price increases'.
He warned: "Every measure that is discussed will have a cost to the primary producer and the margin level is not there for the primary producer and never has been.
"Farming families are on the front line, but the consumer will take a big hit as beef and dairy prices will have to rise," he added.
He said that the overall emissions from cattle need to be clarified.
The ICSMA president has warned that there will now be job losses in "every rural parish, constituency and directly on farms".
He added: "We have to protect what we have, embrace technology and change. Agriculture can play an important role in energy with solar panels and micro-renewable energy at the level of farming families.
---
Read more:
Government asks farmers to reduce their carbon emissions by 25%
Explanation: the changes sought to combat climate change
---
The Irish Cattle and Sheep Farmers' Association said farmers are "ready to do whatever they can to improve sustainability and reduce emissions".
ICSA President Dermot Kelleher added, "Government will have to step in and provide the financial support farmers need to implement existing and soon to be available technologies.
"In addition, the money will have to be invested first in research into carbon storage in soil, trees and hedgerows so that farmers can either offset emissions like other sectors or sell carbon credits" .
Mr Kelleher said it was 'deeply regrettable that the government has put in place hugely ambitious targets without any clear plan for farmers on how to reach 25%… without destroying the viability of farms'.
ICSA is also urging the government to insist on a blanket EU-level ban on meat imports from outside the bloc given "the incredible stress farmers have been under in recent weeks".
Philip Carroll, Chairman of Meat Industry Ireland, said: "While this goal represents a difficult challenge for the agricultural sector, and for farmers in particular, our members will continue to do everything in their power to facilitate the transition to a low-carbon economy in the decades to come."
He warned that the transition that is needed "will result in significant additional costs for the beef sector" and urged: "Targeted government support measures to help farmers with this transition should be introduced as a matter of urgency."
Ibec, the group that represents Irish businesses, said it welcomed the news that agreement had been reached on sectoral emissions caps.
Ibec's Director of Lobbying and Influencing, Fergal O'Brien, said: "Budget 2023 is an opportunity to mobilize decarbonization across the economy through the provision of enhanced supports and resources. .
"The recently announced state aid flexibilities also provide an opportunity to accelerate renewable energy and emissions reductions in industry and the government must provide the necessary investment supports to facilitate this."
The Irish Solar Energy Association (ISEA) said it welcomed the government's plan to increase the target for solar PV capacity by 2030 to 5.5 GW, up from the previous target of 1 .5 to 2.5 GW.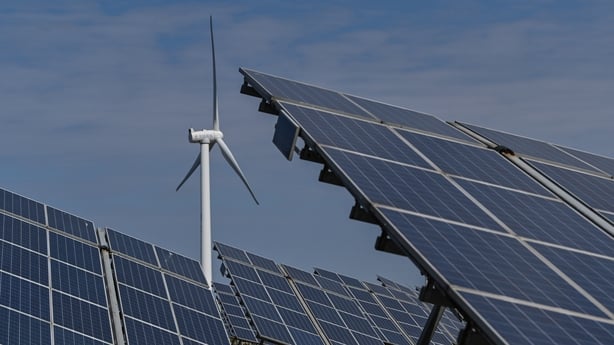 Conall Bolger, CEO of ISEA, said: "He recognizes that utility-scale solar, working in tandem with wind and storage, will be key to moving Ireland towards its zero-carbon future."
Friends of the Earth said that reducing emissions by 25% in the agricultural sector was not enough.
Spokesman Oisín Coghlan told RTÉ's Drivetime that agriculture needs more, as the rest of the economy and society now has to push harder in transport and household energy.
Mr Coghlan said there was a need to move away from the intensive beef and dairy model of farming and move towards a diversified way of doing things.
He said it has taken far too long to build supports for solar energy, but the opportunities for renewable energy from agriculture are considerable.
"Once you accept that cattle numbers will go down over time, that will lead to reductions," he said, but noted that you won't get 100% of farmers applying best practices.
On top of that decision, he said we need more cars on the road, more zero-carbon homes, more bike lanes and footbridges, and all sectors need to consider radical transformation as soon as possible. quickly as possible.