Rural patient care experience prepares third-year medical student for her future as a doctor
Ninety miles northeast of Phoenix is ​​a rural town with a population of approximately 15,000 people. Payson, Arizona, a small community with a lush forest landscape and majestic views of the Mogollon Rim, is host to the Rural Health Longitudinal Integrated Clerkship (LIC). Third-year medical students at the University of Arizona College of Medicine – Phoenix spend six months living and training in rural clinical settings to earn a Certificate of Distinction.
The internship was created through a partnership between the college's Rural Health Professions Program and the MHA Foundation to address the shortage of physicians in the state of Arizona, specifically in rural communities.
The third year of training at the College of Medicine – Phoenix includes rotations at the college's nine clinical partners in the Phoenix metro area. The students hire patients they may never see again after their first encounter.
In contrast, students participating in the Rural Health LIC live and work in Payson, gaining hands-on experiences in underserved communities with an emphasis on longitudinal patient care. They develop medical skills – and relationships – by treating some of the same patients during externship.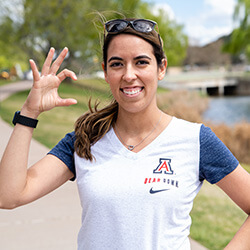 Amaris Tapia, class of 2023 – recently completed the internship. She was first inspired to participate in LIC because of her interest in helping underserved communities. She credits mentors, Jonathan Cartsonis, MD, and Judith Hunt, MD, and her classmate, Brett Clark, for encouraging her to attend clerkship.
"I really didn't know much about LIC until my friend, Brett, told me I should apply. He knows my interests and said it would be a great program for me," Tapia explained.
Tapia then contacted Dr. Cartsonis, director of the college's rural health professions program and associate professor of family, community, and preventive medicine.
"Payson, like other rural settings, doesn't have a deep bench of medical professionals," Dr. Cartsonis said. "Doing clinical training in these environments provides students with a wide range of patient engagement, and their efforts are noticed."
"One of the values ​​I look to in my future as a physician is to develop longitudinal relationships with patients," Tapia said.
---
Tapia had an incredible experience delivering a newborn as part of her Obstetrics and Gynecology rotation. The mother-to-be suffered from high blood pressure and was admitted to hospital where Tapia attended the cesarean delivery. Tapia mentioned her interest in pediatrics as a specialty to the patient's pediatrician and was asked to assess the mother and newborn at follow-up appointments.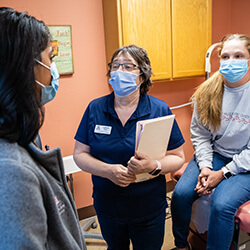 "It's something you couldn't do in the Valley because you don't really cross specialties that way," she said.
Tapia participated in the assessment of the mother the day after delivery, assisted with the newborn check-up appointment and the circumcision procedure. Six weeks later, she assessed the mother at their postpartum appointment.
"Traditional classes of medical students are organized in such a way that they study only one subject for 4 to 6 weeks. In LIC, it's skill-based and continuity-based, so a student could be in the emergency department treating a patient with a gallbladder problem, accompanying them to surgery, and following them after surgery." , shared Judith Hunt, MD.
Tapia has witnessed the lack of healthcare resources in rural communities. She assisted a patient with significant liver failure who was in urgent need of therapeutic intervention. The radiologist was not expected to return to Payson for 10 days, too long to wait given the patient's condition. "I felt stuck – in that I couldn't help the patient earlier," Tapia said.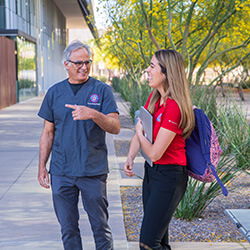 A clinician suggested she contact a nearby hospital, but that facility was also booked. Tapia extended the search to a hospital in Fountain Hills, AZ, but the long drive from Payson was too much for the patient.
"I feel like it's something you would go through during residency because you have continuity clinics, but the traditional medical student experience is too short to really get those follow-ups," said concluded Tapia.
The Rural Health LIC is expanding to meet the need for health professionals in rural communities – and student interest in these hands-on learning environments. The Gila River Indian Community and Flagstaff will host medical students in the summer of 2022, tripling the number of participating students from three to 10.