A parent who has five children at a school sold goats and contributed R1,500 in cash to raise money to improve facilities
Parents contributed whatever they could afford to ensure their children received an education
The school director congratulates the parents and asks the competent authorities to complete what the parents have started
Most of the parents and guardians who have contributed are unemployed and hope the Ministry of Education will notice their efforts
PAY ATTENTION: Follow Briefly News on Twitter and never miss the hottest topics! Find us on @brieflyza!
By Lloyd Dlongolo – Independent Journalist
Education is often seen as the golden ticket to a better life. This story was reflected in reality by a rural community after they mobilized and built classrooms for their children.
But where did they get the funds from?
Troubled by the fact that their children had no classroom, parents of pupils at Chabasa JSS in the Swazini area of ​​Port St Johns in the Eastern Cape sought solutions. In 2010, the government built three temporary structures to house grades R through 7. But the structures have not stood the test of time.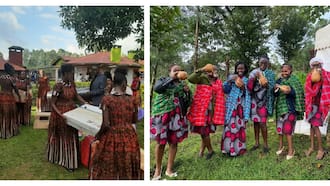 The Ambitious 7: Meet a group of women who help build and furnish homes for parents
Do you like reading our stories? Download the BRIEFLY NEWS app on Google Play now and stay up to date with top South African news!
The parents then went knocking on the doors of the Ministry of Education with begging bowls. They did not attract any sympathy. Their desperate pleas for help from the government yielded no results and they literally took matters into their own hands.
Some have sold their expensive livestock while others have paid their entire subsidy.
It should be noted that most of the parents and guardians of the six villages that supply the school are unemployed and live from agriculture, but they did not hesitate to contribute to the cause.
Their efforts were generously rewarded as they managed to build classrooms for the school's more than 270 learners.
One parent, Zingisile Sadula, knows the struggle is all too real. He has five children at school and they have complained in the past about their school environment.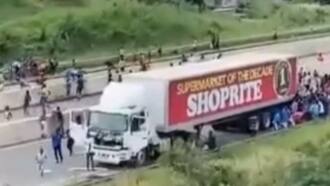 Video clip of Shoprite truck being looted at KZN causes online stir: 'What barbaric behaviour'
"I contributed R1,500 to the cause. I also sold goats and contributed again using the money from the sales," Sadula said.
"It really hurt me that the department is dragging its feet to provide more classrooms for students. Education is a basic human right," added Sadula, who is also vice chair of the board of trustees. school.
Sadula added that there was a school nearby but the safety of her children and others was a priority.
"There is a huge forest and the safety of our children comes first. We hope the Ministry of Education will see how seriously we take our children's education. We want our children to have a bright future and education is a good step in that direction. This school has good teachers and our children get rave reviews when they get to other schools," he said.
The parents, however, failed to raise enough funds to build the entire school. The lack of classrooms is still glaring. They are not afraid of the obstacle that awaits them. They are now working on plastering the exterior of the classrooms.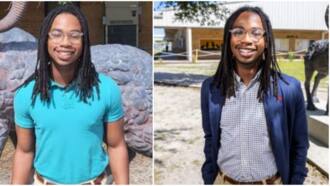 Black teenager offered R60m in scholarships after inventing device for blind people
Chabasa JSS director Sidima Mvumvu reiterated that he had sent several letters to the Ministry of Education asking for intervention, but his efforts fell on a rock.
"Teachers must spend at least 30 minutes in classrooms so that another teacher can come after. This is not viable or conducive as it details learning. The school needs urgent help from relevant authorities as well as the business community," he said. .
Grades 1 and 2, as well as 5 and 6, share bedrooms in the newly constructed space, while Grade R occupies the last classroom.
Staff are cramped in one of the temporary structure classrooms with Grade 7 students.
In the midst of all this, parents have shown and proven that education is the greatest gift they can give their children. even if it means sacrificing their precious livestock.
Parents build classrooms for kids, leave SA inspired and frustrated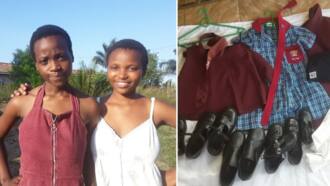 Teenage sisters make a difference by collecting uniforms for struggling students in their community
This wasn't the first time parents had to take matters into their own hands. In brief News previously reported that the parents of the children at Jumba Senior Secondary School in Mthatha have taken the initiative to build additional classrooms at the school for their children.
Online, a man with the @ghettostyler Twitter account shared a photo of builders working in classrooms. In the caption, he explained that the parents of the children who would use the classrooms decided to build it for them.
Source: News in Brief